Bed of Roses
A delicious way to spice up the night
Category:
Winter, Spicy, Holiday
Introduction
About this Recipe
Oh, Valentine's Day. The day of lovers, the day of romance, the day of overpriced flowers and chocolates. It's also a great day to make you and your loved one a cocktail to get the mood going. We've got just the recipe in mind.
.5oz fresh squeezed lemon juice
.5oz chipotle strawberry syrup (instructions below)

1 egg white – for froth

3 dashes Scrappy's Bitter Firewater Tincture


Grapefruit zest

Frozen strawberries

Freeze some fresh strawberries the day before to use in lieu of ice cubes.
Pro tip: Leave a short stem on your rose garnish and stick it into one of the strawberries to keep it from sinking.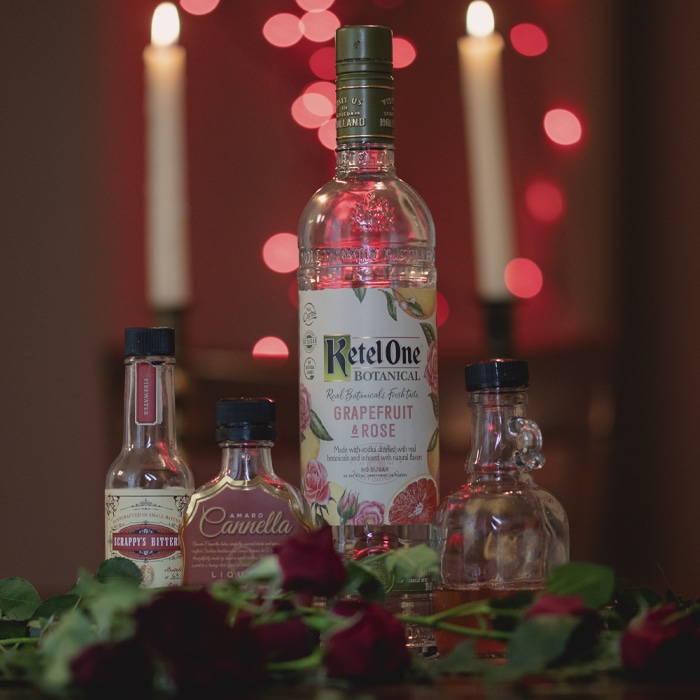 Step by Step Instructions
Step 1: The Syrup
Simple syrups are well, simple. For this flavor, slice up some strawberries, and add them to a pot with one cup sugar, one cup water and two tablesppons of chipotle pepper flakes. Bring to a boil and simmer for 15(ish) minutes. To get more chipotle flavor, let the syrup sit for an hour or so before straining and bottling.
Step 2: The Cocktail
There are really two ways to go about this. Personally I find it much easier to get your egg white frothy using an immersion blender. If you're lucky enough to own one, proceed as follows:
Combine the syrup, vodka, liqueur, lemon juice, bitters and egg white into a tall, cylindrical container. Mix with the immersion blender until the entire mixture is nice and frothy.
No immersion blender?
No problem, however, you're about to get a good arm work out. Shake the above ingredients without any ice cubes for about 60 seconds to integrate the white with your mixture. Add ice and shake for an additional 60 seconds. Now is a good time to ask a friend to massage your arms.
Step 3: The Garnish
Pour your frothy beverage over 2-3 frozen strawberries. Mist the top with grapefruit zest and top with a small rose. Now, put on some sexy time music and enoy by candlelight.