Moonlight Through the Pines
Introduction
About this Recipe
After living in the western part of the United States for 30 years, I very recently dug up all of my roots and replanted them in the South – Georgia, to be specific. As a brand new Georgian, I'm obsessed with immersing myself in southern culture. I expected to be surrounded by biscuits and peaches, and glorious BBQ, but the one thing I wasn't expecting was the endless expanse of pine forests, covering every acre of land from vacant lots to suburban backyards. For a bonafide desert dweller, it's a real treat.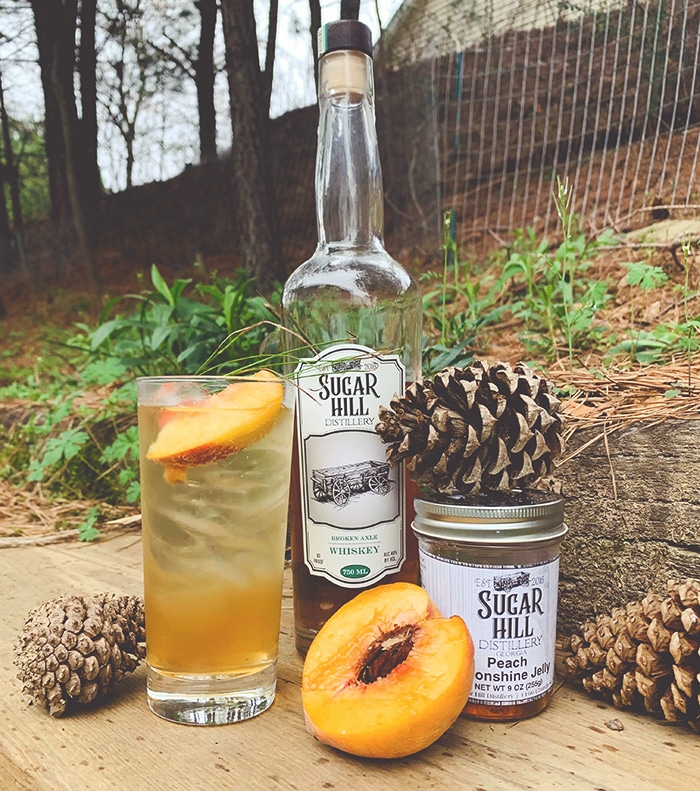 Although I'm doing my best to assimilate to southern life, only a native, like Ray Charles, could have written a song like Georgia on My Mind. Those lyrics perfectly encapsulate the essence of this beautiful state. This cocktail is an ode to that song, to Ray Charles, and to Georgia herself. It's perfect for rocking on porches, slow sipping, and enjoying warm summer nights. In other words, it's a cocktail as sweet and clear as moonlight through the pines.
Cocktail
1.5 oz Sugar Hill Distillery Broken Axle Whiskey 
0.5 oz Pine and Peach Moonshine Jam Simple Syrup (recipe below)
4 oz. soda (or to taste)
Syrup
½ c sugar
½ c Sugar Hill Distillery Peach Moonshine Jam (or plain ol' peach jam)
1 handful of fresh pine needles (rinse 'em good)
1 c water
Step by Step Instructions
Step 1: The Syrup
Add pine needles to 1 cup of water in a pot and bring to a simmer. Add the sugar and jam and simmer until they're dissolved. Turn off the heat and let the syrup cool to room temperature. This may be obvious, but you'll need to take the pine needles out of the syrup before using it… unless you're into having a mouth full of pokey things.
Step 2: The Cocktail
Add your preferred ice to a highball glass. Add whiskey, simple syrup, and stir to combine. Top with soda. Garnish with a fresh peach slice and a few pine needles to tickle your nose.