The Good and Evil of Social Media for Artists
Jessica McNatt
There's a reason words like "starving" and "struggling" are synonymous with the word "artist". Selling your craft, whether it be paintings, photography, or even cross-stitch, is a tough gig. In this brave new world of digital connectedness, one's first instinct would be that social media is the answer to making your way as a successful artist, but, when not used with caution, can actually hinder your success.
You may be asking, "what could be so bad about utilizing digital communities with millions of active users?" Without the right mindset, it's easy to glean a skewed sense of things, from market over-saturation to the false reality of what others are choosing to put on their profile. The insecurities that ensue can truly stifle our creative flow.
On the contrary, social media doesn't always have to be a hindrance. We learned from block print artist, Laurel Ferreira, who has experienced first-hand how to navigate the murky waters of social media, stay positive, and ultimately use the tool of social media for good.
But first, how do artists typically use social media for their business? 
Artists like Laurel tend to use platforms such as Facebook and Instagram to post photos of their work for sale, to show a demonstration of their process, to get the word out about an upcoming booth (or show), or even to offer a giveaway.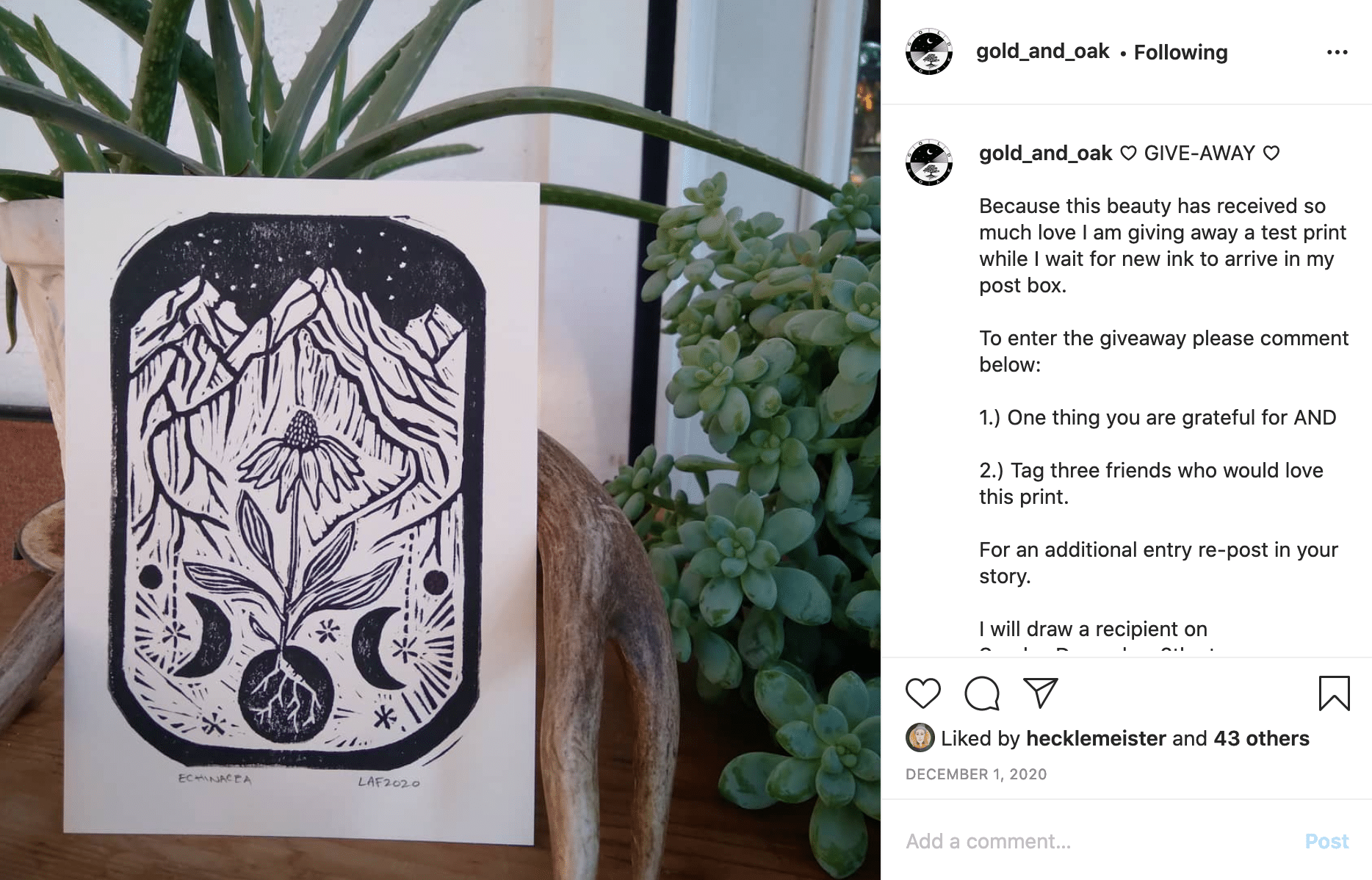 These types of self-promotion are great for keeping your social following up to speed on what's new, as well as keeping your art on the forefront of their minds. After all, building a following can be the real challenge, so social media is a great way to keep that audience engaged and interested.
If you check out Laurel's Instagram profile @gold_and_oak, you'll see a little of everything, from prints hanging to dry, to products for sale, and even pretty pictures of the farm she works from. It's the perfect avenue to let her personality shine through – a stark contrast to her minimalistic website.  
So far this all sounds great, so what's the problem?
The pitfalls of using social media as an artist
The dangers in social media don't necessarily lie in our ability to reach out and connect with fans, it's in the noise that coexists with that connectedness. In other words, it's not the content we're putting out, it's what we're taking in. To put it bluntly, "Social media is negative in that it all too often makes us feel like shit." says Laurel.
Let's take a deeper look as to why this is happening:
Social media doesn't reflect reality

When we see posts of other artists, announcing how fast their products sold out, or how they just booked an amazing show, it's only human to immediately compare our own success with that of others. 
In reality, when taking social media posts at face value, we're only getting a tiny glimpse into a much larger, often tumultuous story. Social media only shows us the shiny bits, the celebrations, the exciting announcements, without all of the work and struggle and rejection it took to get to these peeks in the artist's career. 
Social media fuels our insecurities

No one posts on social media, then throws down their device and hides under their sheets. We look, and scroll, and read the zillions of other posts that exist in our continuous feed of other artists' art. 
Looking at the work of others is a double-edged sword. It's great to see what artists are doing and be inspired, but, these posts can also ignite insecurities about our own work. Just as it's human to compare our successes and opportunities, it's easy to compare our work itself. Seeing the talent of other artists can make us question our own work and whether or not it's even worth putting out in the world.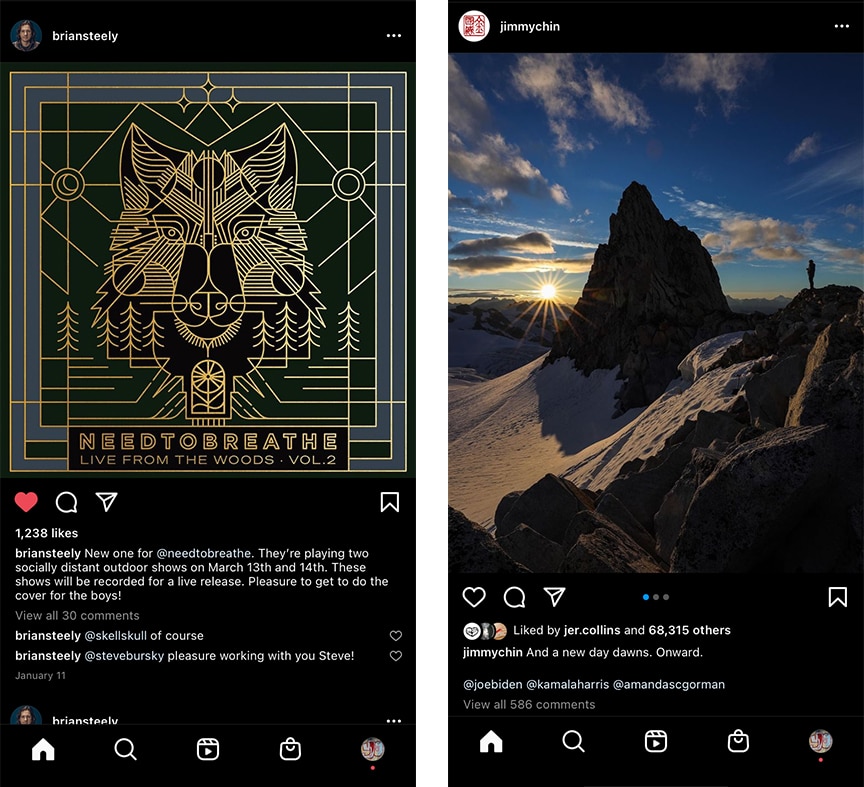 Social media creates false notions about market over-saturation

As the internet has made it easier to market oneself, technology has made it difficult to compete. Take photography for example. With a quality camera on every smartphone, photo editing tools and filters at everyone's fingertips, we can all claim to be a photographer. Or, at least, it appears that way after one scroll through Instagram. 
But how is that problematic for real working artists? Once again, the notion that so many are out there creating art fuels the inner voice that says, "how can I compete? How will I even get noticed?" When in reality, those taking their craft seriously, honing it, and working toward a career in it are very few and far between. 
Now that we've talked about a few social media dangers, don't go and delete your Facebook and Instagram accounts just yet. Simply being mindful of these pitfalls is a great start to combat them. Next, work toward using social media as a tool to better your business.
Social Media can be used for good
First, and foremost, you gotta do you 

Many artists, like Laurel, realize that these insecurities and false notions can be overcome. 
"I have learned that we need to follow our passions and keep creating no matter what other people are saying or doing.  Staving off self-doubt and insecurity is an ongoing battle for me," says Laurel.
Daily affirmations, positive self-talk, and self-care are all great ways to stimulate creativity and confidence. Make it a goal to work in some of these practices into a daily routine. The more you do, the stronger you'll become in working through insecurities.
Focus on the positive


If you can power through the social media noise, try to hone in on what's working. 
"I have used [social media] to meet and learn from local artists that I may not have otherwise discovered. It has put a myriad of creative ideas and expressions at our fingertips which I view as a positive. It's also key for keeping up on dog photos," recalls Laurel. 
A shift in perspective to a more positive mindset can make a world of difference for those working to build a career as an artist with the help of social media. And dog photos can't hurt either. : )